Apple Metal is the fruity equivalent of DirectX for Cupertino. It's an API that allows game developers to leverage the hardware of Apple platforms, for faster and more responsive games. Along with the introduction of the first M2 Macs and the new Metal 3 on Monday, we discovered MetalFX Upscaling for the first time.
Watch the opening video segment from Apple WWDC2022, where MetalFX Upscaling is discussed here, or you can play the video embedded above and fast forward the mouse to around 1 hour and 22 minutes. The gameplay segment is about three or four minutes long and includes a speech from a senior member of Capcom's Resident Evil Village development team.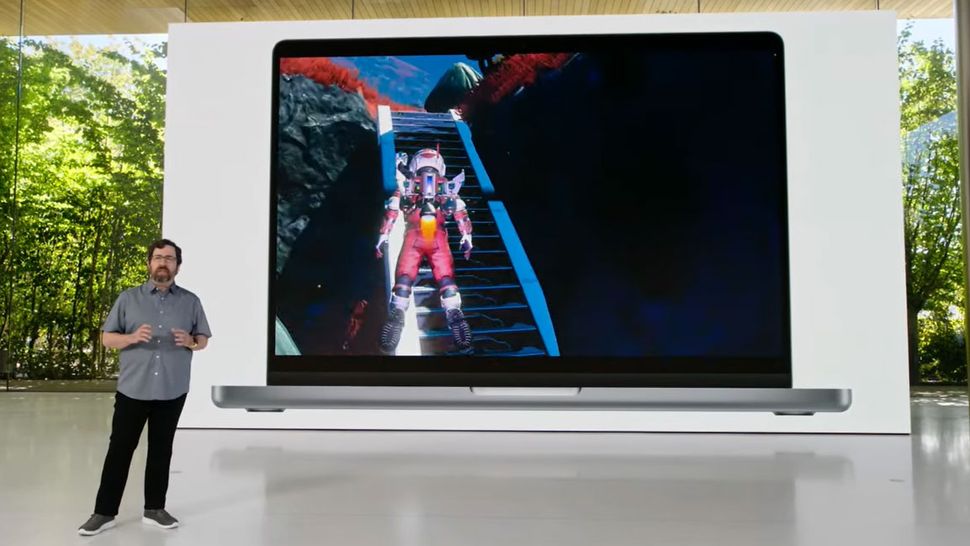 Apple's tech reveal begins with an explanation that MetalFX Upscaling uses a mix of "high-quality spatial scaling and temporal anti-aliasing techniques." The video of No Man's Sky running as part of the presentation isn't very meaningful because we're not told what hardware is being used to run this game, nor are we given any performance stats.
We get a more in-depth explanation of MetalFX Upscaling and its potential from the Capcom exec in the video. He tells us about the graphics characteristics and performance of Apple hardware in Resident Evil Village. The exec claims that Apple Silicon is becoming a great platform for gaming, and in this segment we see gameplay footage, which would "scream" quickly on newer Macs thanks to advancements in Metal 3. The video shows smooth movement through intricate scenes with allegedly high-quality intricate textures, geometry, and shaders.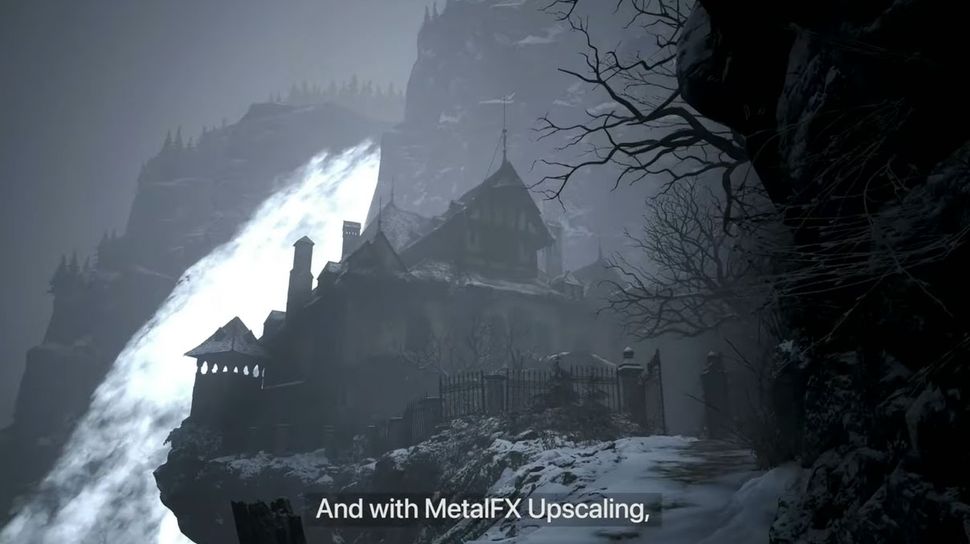 Some rough performance estimates are provided by the Capcom executive. He says that using the latest MacBook Air, Resident Evil Village "ran effortlessly at 1080p". For higher resolution games, the Mac Studio was said to deliver a "breathtaking 4K experience". Overall, a good experience could be had on "all Macs with Apple Silicon" according to the game's developers. We're guessing that means at least 30fps, but no concrete numbers were provided.
Both No Man's Sky and Resident Evil Village for Mac will be released later this year.
That's all we have on Apple's MetalFX scaler at the moment, but the scaled earth setup is increasingly filled with options. Graphics scaling techniques are becoming increasingly important to achieve high frame rates at high resolutions.
Nvidia was first out of the gate with DLSS in August 2019, which was partly an attempt to convince gamers of the value of its new Tensor cores (at the time), as well as an effort to remedy the poor real-time raytracing performance of first-generation GeForce RTX GPUs with ray-tracing acceleration cores (i.e. RTX 20 series). AMD released FidelityFX Super Resolution (FSR) as an alternative to DLSS to improve performance in June 2021, then continued with FSR 2.0 in May 2022. Intel's XeSS is still under development, with performance optimized for Xe extensions Arc Alchemist's Matrix (Intel XMX), although it should work somewhat on non-Intel hardware as well.
Nvidia DLSS 1.x and AMD's FSR 1 were based on spatial scaling, but second generation versions of these technologies included superior and more computationally intensive temporal scaling in their code. DLSS 2.0 was officially introduced in March 2020 (although a variant of it has been used in Control before that date), and FSR 2.0 only recently became available in games, starting with Death Loopso what farming simulator and God of the war added technology.
In short, spatial scaling means that the only data used for scaling a frame comes from the frame itself. Time scaling uses data from the current frame as well as previous frames for best results, and it also uses the depth buffer (z-buffer) and a motion vector buffer to better track changes between pictures. It's also worth noting that FSR 1.0 doesn't try to do anti-aliasing, while FSR 2.0, DLSS and XeSS handle both scaling and anti-aliasing.
Where does Apple's MetalFX scaling fit into the mix? It's not yet known exactly how it will work, but the claim that it uses both spatial and temporal algorithms seems a bit odd. Temporal scaling uses the current frame (spatial data) combined with previous frames and other data, so maybe that's what Apple is doing. Of course, MetalFX Upscaling will only work on Apple's M1 and M2 chips, using AI Neural Engine for processing, so direct comparisons with other upscaling solutions can be difficult.
Apple itself as well as Mac gamers will certainly benefit from a good scaling solution, due to Apple's use of high resolution "Retina" displays. Even the fastest GPUs can choke when trying to render complex games at 4K, and upscaling can provide a major performance boost. With the M2 GPU rated at just 3.6 teraflops (that's less than a Radeon RX 6500 XT), Apple needs all the help it can get.